Shopping Cart
Your Cart is Empty
Thank you for your business!
You should be receiving an order confirmation from Paypal shortly.
Exit Shopping Cart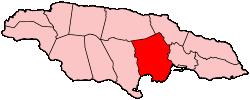 St Catherine (capital Spanish Town) is a parish in the south east of Jamaica. It is located in the county of Middlesex, and is one of the island's largest and most economically valued parishes because of its many resources. It includes the first
capital of Jamaica, Spanish Town, originally known as San Jago de la Vega or Santiago de la Vega (St. James of the Plain).
Premier Attraction: Two Sisters Cave
The Two Sisters Cave is a twin cave system, believed to be some 200,000 years old. The cave was formerly a single cave but following the great earthquake of 1692 (which destroyed Port Royal) the roof of the cave
collapsed, leaving two smaller open-air caves separated by a huge pile of rubble.
The caves are both underwater, their bases are lined with large pools of crystal clear blue water. The rocky ledges overhanging the pools are home to swallows and fish eating bats which can be seem darting about above the water. It is believed that the caves connected to other caves in the area through underground limestone tunnels.
It is believed that the cave was used as a source of water for Tainos and possibly used for ceremonial purposes but was not lived in. This is evidenced by a small petroglyph of a human face found on the cave wall (now protected by a wooden frame) and no evidence of ancient domestic activity found in the area.
There are two theories as to how the Two Sisters Cave got its name.
One is that two slave sisters escaped from a nearby plantation and, tired from running, stopped at the cave and rested. They later heard their pursuers coming after them and, lacking the strength to run and not able to face returning to the plantation, they leapt to their deaths in the waters of the cave. Their spirits are said to haunt the cave to this day.
The other theory is that Two Sisters Cave is named so because it appears to be two very similar caves next to each other.
/