Shopping Cart
Your Cart is Empty
Thank you for your business!
You should be receiving an order confirmation from Paypal shortly.
Exit Shopping Cart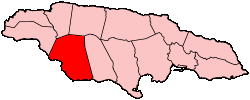 St. Elizabeth was once the largest parish in Jamaica. It was split to form parts of Westmoreland and Manchester, and named in honor of Lady Elizabeth Modyford, wife of Sir Thomas Modyford, Governor of Jamaica between 1664 and 1671. Today St. Bess is the third largest parish in Jamaica.
Premier Attraction: YS Falls
The beautiful YS Falls opened in 1990. It is a nature-based attraction offering the opportunity to experience the beauty of the waterfalls surrounded by flora and fauna, many indigenous to the area
There are seven waterfalls, several which cascade into natural pools. Some areas are fairly rocky and do not allow swimming. Lifeguards on site, indicate which areas are for swimming, however, being able to swim is a requirement. There is a natural pool, fed by underground and above ground springs, which is more suitable for children and others unable to swim.
The Black River Safari Boat Tour
Black River, the longest river in Jamaica, is a great place to explore remote mangrove swamps and to catch a glimpse of native species such as crocodiles living in their natural habitats. Take a fantastic Jamaican vacation tour through one
of its most beautiful regions. A typical Jamaican lunch is included before a refreshing swim in the YS Falls.
Your Black River Safari begins with an air-conditioned bus ride along Jamaica's beautiful south coast, past quaint fishing villages and small towns. En route, your knowledgeable tour guide will highlight all the points of interest with humorous anecdotes and commentary.
Upon arriving at Black River, board your boat for an exciting nature expedition along Jamaica's longest river. As you cruise the Black River, you'll catch glimpse of real Jamaica, from native crocodiles and Jamaican birds to the local fishermen in their dugout canoes fishing for river shrimp.
Visit our legendary distillery nestled in the picturesque Nassau Valley on Jamaica's Southcoast. The Appleton Estate Rum Tour will take you on a journey through time to learn about the history of rum and to give you an inside look at how the finest rum in the world is made. Take in the beauty, character and colour of our Estate's grounds which offer plenty of unique photo opportunities.
Enjoy a guided tour of the artifacts that illustrate our history and experience firsthand the historic production process of Appleton Estate's rum. Visit the distillery to see the Copper Pot Stills that impart their distinctive character to our rums and are unique to Appleton and the barrel house where our rums age to perfection.
You'll also have the opportunity to purchase the Appleton Estate Exclusive Jamaica Rum, which is only sold at the Estate and select travel retail outlets in Jamaica. Appleton Estate Exclusive is a luxurious blend of rums. These fine rums reflect the elements of the terroir that are exclusive to the Appleton Estate as well as our unique rum making process. Appleton Estate Exclusive Edition comes in a proprietary bottle with a cork finish and is packaged in a beautiful wooden gift box.
After taking the tour you may find yourself wanting to return here every year, making a rum pilgrimage to pay homage to the exceptional spirits at the Appleton Estate.
/